Our origins.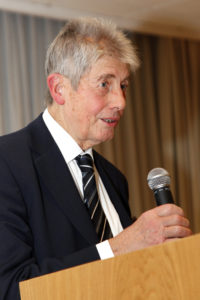 The Estedi Laboratory was founded in 1953 by the eminent doctor and surgeon Dr. Sebastián Badia Pi (1904-1994).
The Technical Direction, from the beginning until his retirement, was in charge of Mr. José María Calzada Badia, doctor in Pharmacy, who created almost all the drugs currently marketed by the firm.
At present (2003) the Technical Directorate is held by Doña Montserrat Rius Pons, a pharmacist specialized in the organization of pharmaceutical companies.
In constant evolution.
From its beginnings, the Estedi Laboratory specialized in Digestive Apparatus. He launched to the Spanish market the first bile contrast of acid and opaline (Colegraf), the first hyssocine methyl bromide, effective spasmolytic, with the name of Blocan and an emulsion of olive oil as a substitute for Boyden's fatty food (Blodex). Another of its initial products, Entero-Silicone, the first Spanish specialty of oral simethicone, has been widely used for the treatment of flatulence. Other outstanding products in gastroenterology are Quenobilán, the first Spanish preparation of chenodeoxycholic acid used for the dissolution of gallstones and its successor, Ursobilane, ursodeoxycholic acid, which, in addition to being used to reduce cholesterol biliary vessels of less than 10 mm. in diameter, has reached a pre-eminent position in the treatment of chronic cholestasis and symptomatic cholelithiasis since it reduces the risk of biliary pain and acute cholecystitis in patients with gallstones (Tomida S et al, Long-term ursodeoxycholic acid therapy is Associated with reduced risk of biliary pain in cute cholecystitis in patients with gallbladder stones A cohort analysis, Hepatology, 1999, 30: 6-13). A new application of Ursobilane can be as a coadjuvant of the statins in the treatment of hypercholesterolemia. In several hospital services in Barcelona, ​​under the direction of Dr. Ricardo Cabezas, a multicentre, prospective, randomized and controlled clinical trial has been carried out in which ursodeoxycholic acid has been used as a complement to the statins to lower cholesterol. The results have been fully satisfactory. This research has been sponsored by Laboratorios Estedi, SL (Cabezas Gelabert, R., "Ursodeoxycholic acid, Current status: Hypercholesterolemiante myth or reality?" Pending publication).
Other medicines important in the history of Estedi are Tirodil, methimazole, antithyroid fully effective, Flogoter, indomethacin, antirheumatic and anti-inflammatory especially useful in the form of prolonged action, Flogoter Retard, Deprelio, amitriptyline, classic antidepressant, Histaverin, codeine syrup, a traditional antitussive with a pleasant menthol flavor, Tedipulmo syrup and tablets of the experienced bronchodilator terbutaline and Vigencial, the only Spanish preparation of gentian violet, antifungal and topical antibacterial. Estedi also commercializes Beclo-Rino, beclomethasone topical dipropionate for nasal use in the treatment of rhinitis and Becloenema, beclomethasone dipropionate in enema for the treatment of ulcerative colitis. Both applications are recommended in global therapeutics.