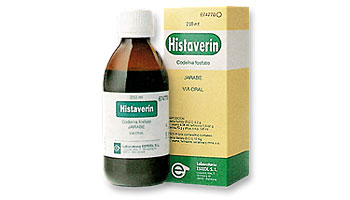 Composition
Each 100 ml contains: Codeine phosphate (D.C.I.) 0.2 g; Exc .: sodium citrate dihydrate, menthol, sucrose, methyl parahydroxybenzoate (E 218), citric acid monohydrate, mint green color (E 102), lemon essence, ethanol 8.08 ml and purified water.
Action: The active ingredient of HISTAVERIN, codeine phosphate, is an antitussive that acts centrally to suppress cough.
Indications
Treatment of unproductive cough in processes such as: flu and colds, whooping cough, laryngitis, laryngotracheitis, emphysema, pneumonia, pleuritis, pneumoconiosis, tuberculosis.